Armed with a friendly smile and a heart for serving clients, Allie Taylor is the first person you meet when entering Curran Architecture. Poised behind the front desk, she welcomes clients and takes on vital tasks that keep the office running smoothly. "I love the variety in the work I do," says Allie. "No two days are alike, so it's never boring."
Enrolled at Purdue University, Allie is studying business administration with plans to graduate in June 2021. Before coming to Curran Architecture, she interned with a construction company as a business administrator. Allie's time as an intern was incredibly valuable. Not only did she connect and make a great first impression interacting with partners like Curran, but she also gained valuable office administration experience. "My internship taught me a lot about the different vendors associated with construction and architecture companies," says Allie. "Plus, I gained a foundation in office management that's propelling me forward."
As an office manager, Allie's work is pivotal for giving both clients and staff a seamless office experience. She answers and directs calls, orders necessary supplies, completes invoices, and organizes vendor Lunch and Learns. With a proactive spirit to get jobs done quickly and efficiently, her organized, analytical personality fits the role perfectly. "Whatever the task, I just jump in and get it done," she says.
Outside of work and school, Allie enjoys boating and skiing with her family at Lake Cumberland in Kentucky, spending time with her sisters, niece, and nephew, and watching the sitcom Friends.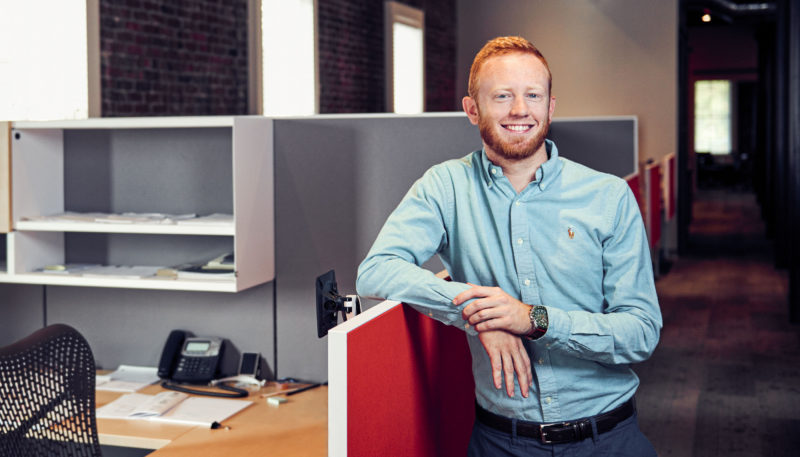 As a member of the next generation of architects, Trent Walker brings plenty of fresh perspective to the Curran Architecture team. New technology in architecture computer programs especially intrigues him. "I love being on the cutting edge of these new programs," he says. "It's exciting because technology evolves so rapidly that I can only imagine what will be available in another few years."
Trent recently received his BS in Architecture from the University of Cincinnati, his hometown. He's currently enrolled at Ball State, earning his master's in architecture while interning as a Graduate Assistant Intern Architect here at Curran Architecture.
Trent's interest in architecture started at a young age. "When I was a kid, I loved buildings and creating with blocks," Trent says. In high school, he took his first architecture class and became hooked after seeing the real-world application and significance of design.
Trent is willing to jump in and do anything it takes to help the team. As a Graduate Assistant Intern Architect, he's gaining beneficial experience in the field tackling pre-design site work, building renderings, interior and exterior renderings, and construction documents. With a heart for green concepts, he especially enjoys thinking about different ways to build with materials that won't harm the environment. His goal is to create more effective and efficient designs without sacrificing the planet.
When he's not studying or working, Trent enjoys photography, hiking, and road trips to scenic national parks.