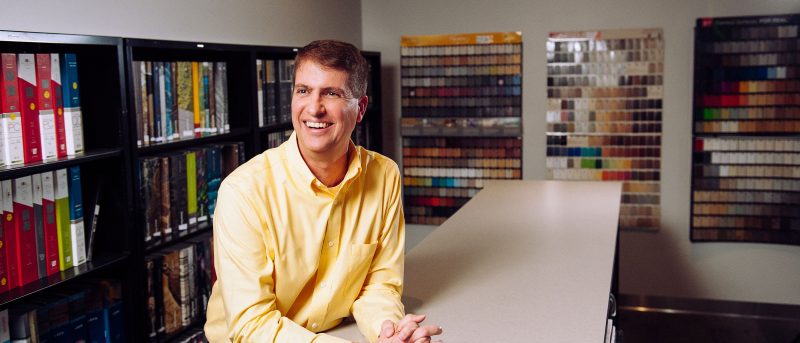 With a diverse background in architecture and interior design from both a firm and consumer perspective, Michael understands what clients are looking for. At Curran Architecture, he serves as project manager where he strives to meet every client's individual needs.
Whatever the project, Michael loves working with people, and brings that passion into every job he undertakes. He wants it to feel like the Curran Architecture team is an extension of the client's team, working together for everyone's benefit.
What do you love best about your work at Curran Architecture?
To me, it's all about people. In my role as a project manager, I enjoy helping clients put a project together from start to finish. It doesn't matter if it's a simpler project or something as complex as a master plan development. I like the satisfaction of seeing a job through to completion and working alongside great people.
Since coming to Curran Architecture in 2011, I've come to know the people I work with in the office. We've developed great personal connections that parallel our working relationships in such a positive way. Our team is full of so many good folks, it makes coming to work rewarding.
What industry trends have you seen in the last few years?
Our clients' timeframes are getting tighter because they have to get their products and services to market faster than ever before. The quicker turnarounds have driven us to change our process. Sometimes contractors are beginning their work as our team is still completing the final detailing of the project. We've adapted our processes over the years to be faster and more efficient.
How do you find inspiration for your work?
I'm always putting myself in the clients' shoes. What's happening in their market? What are their current strategies? What are their unique needs? How can we leverage our skills and talents to help them succeed? Since I worked previously on the client-side of things, I like to get to know their point of view on a personal level.
At the end of the day, what makes a project a success for your clients and you?
As long as the client is happy and their project is successful, I know we did a good job. That especially holds if we stay within budget and on time.
Also, I enjoy looking for opportunities to grow our team members' skills. That might mean assigning something new or challenging to someone or presenting them with any opportunity to grow and learn. The flexible and innovative culture we have here makes this possible.
Can you describe the value you and the rest of the Curran Architecture team bring to the table for clients?
We strive for an understanding of their business. Since we dig deep to know and anticipate their needs, our clients can focus time and energy on the day-to-day operations of their business. Basically, they should not need to micromanage us.
Also, our team is prompt and responds quickly to questions and needs, especially during construction when challenges can pop up. And we stay ahead of deadlines, too. I know we're doing a great job when clients trust us to take them through the whole process and deliver on time again and again.
Truly people make all the difference in the world. As long as I'm building strong relationships, either with clients or co-workers, I know I'm in my sweet spot and bringing value.
To connect with Michael, call 317-288-0681 or email mlong@curran-architecture.com.