"Collaboration." It's a popular word, especially in our industry. But to work together, you need spaces that support teamwork — like differently sized meeting rooms, for example. Focus booths and flexible workspaces (and even social hubs!) also make it easier for employees to work together. But here's the thing: These spaces should flow into one another. Otherwise, employees may feel like they're working in a silo, cut off from teammates.
Which is why Browning Chapman, a specialty contracting company, decided to build a new headquarters in Westfield, Ind.
The need for a new headquarters
Browning Chapman, founded in 2012 by Allan Browning and Gordon Chapman, has grown considerably over the past nine years. But as more people joined the team, the company had to lease more space. Although everyone was in the same building, people worked in multiple suites. Things felt disconnected and inefficient.
It was time for a new headquarters — a place where the office space and the warehouse could be under one roof.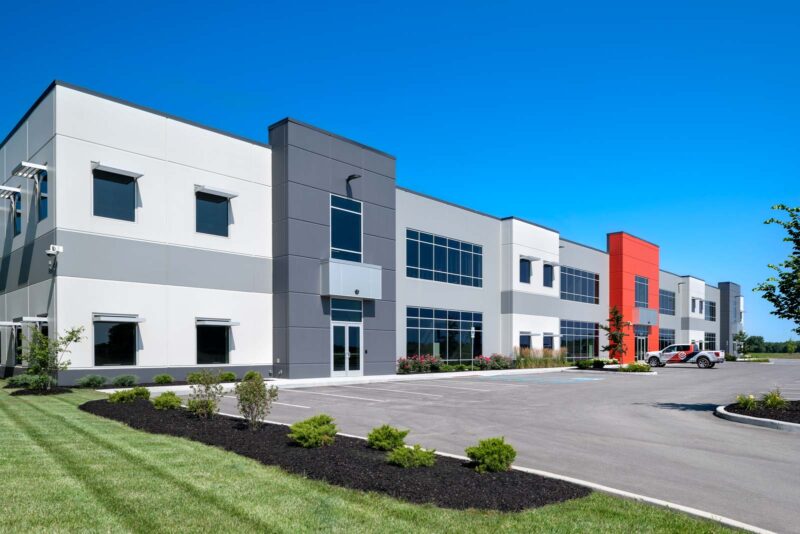 Bringing the project to life
To bring the project to life, we worked with Revel Design, which provided interior design; Smith Roberts Associates, which provided structural engineering services; and American Structurepoint, which served as the civil engineer. Peterson Construction was the general contractor for the shell of the building and Browning Chapman was the general contractor for the interior. (The mechanical, electrical, and plumbing was design-build.)
Curran started working on the 80,000-square-foot space in 2019. We created two packages for the project: one for the shell, one for the interior. Creating two packages made things a little easier once COVID-19 affected the supply of building materials. Although the interior wasn't 100 percent finished from a design standpoint, the shell was pretty much in place. This gave the project team and Browning Chapman time to pump the brakes. We evaluated changes in finish selections and even if we would have to cut out the second story. Thankfully — and remarkably — nothing changed.
Not your typical contractor's office
Do a Google Image search for "contractor office," and some unexciting images will show up. (Including some photos of cubicles.) That's why our president, Shawn Curran, describes the space as "not your typical contractor's office." The two-story lobby features a monumental staircase with open risers and a central "spine" stringer upon which the wood treads are cantilevered. And since Browning Chapman specializes in concrete restoration, decorative concrete, and floor maintenance, they wanted to incorporate their talents into the interiors. So, in the lobby there are two, full-height precast concrete panels. Both panels feature cutouts, which expose the supporting rebar. (The cutouts also allow people to peer through the panels and get a peek at other spaces in the office.) Browning Chapman's branding suite — a deep navy and a vibrant red — are also in the lobby, making it a stand-out space.
Past the lobby, the two-story space continues. The second floor—which features private offices for heads-down work—overlooks the first floor. The materials feel a bit industrial, but natural wood, warm-colored carpet, and live plants lend a comfortable, earthy feeling. Polished concrete floors highlight some of Browning Chapman's work.
"They are considered a specialty contractor when it comes to concrete finishing, so their office is kind of a living showroom," says Shawn. "When clients come to the office and want to know what a particular finish will look like, Browning Chapman can show them."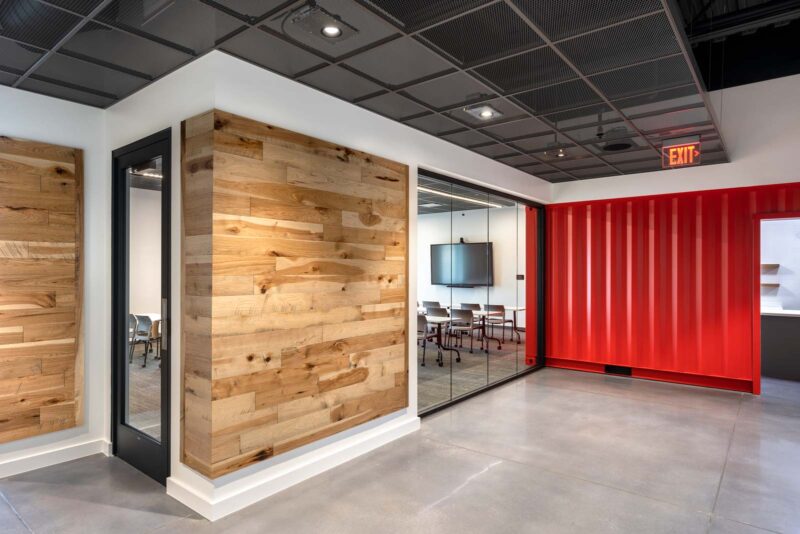 The result
After Browning Chapman moved into their new space, employee efficiency and collaboration increased. People can easily roll out drawings on shared tables or talk through projects in smaller, glass-paneled meeting rooms. The working-in-a-silo feeling is gone, replaced by a space that is open, connected, and collaborative.