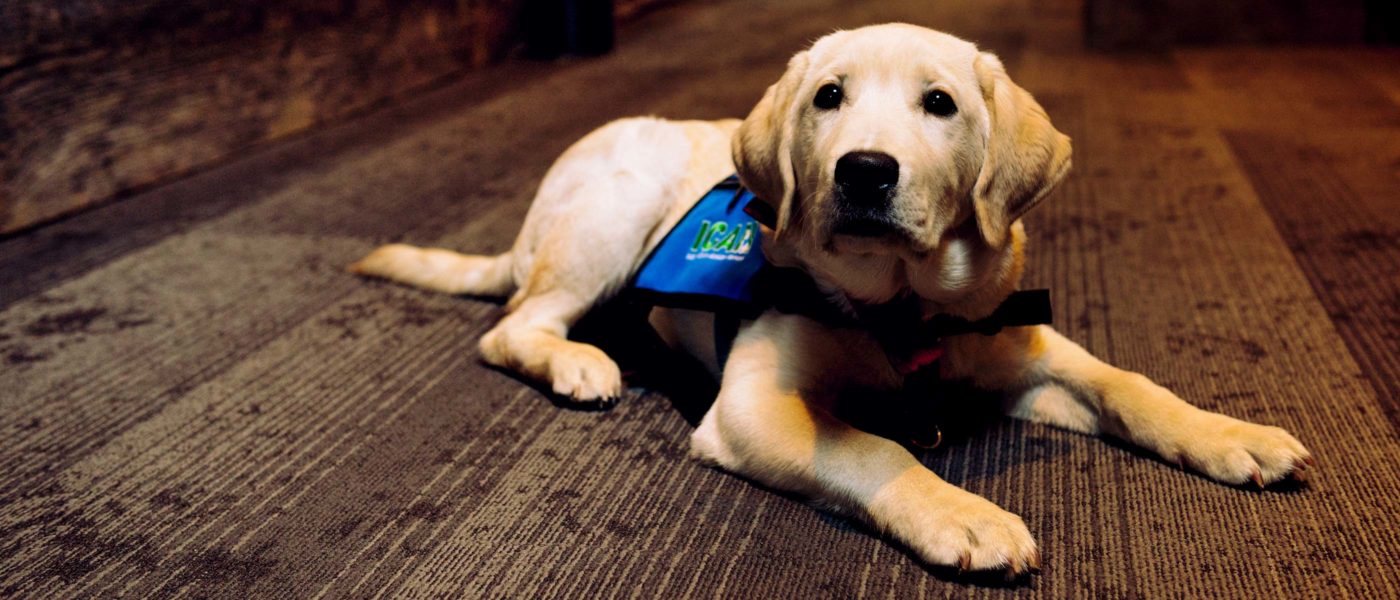 What's sweeter than man's best friend and delicious cupcakes? Part of celebrating our sixteenth anniversary included having our furry friends from ICAN deliver locally-made vegan cupcakes (from The Flying Cupcake) to some of our friends. The expression on their faces was priceless!
The past 16 years has been such a great ride here at Curran Architecture. We've grown, tackled bigger and better projects, and developed lasting relationships with clients and partners. We have so much to be grateful for. And if you're reading this, chances are we're thankful for you, too. We wouldn't be here today if it weren't for the incredible people and partners we've had the pleasure of working alongside.
In honor of our company anniversary this year, we've put together a fun list of 16 things you might not know about Curran and the great folks who work here. Enjoy!
The current Curran office

used to be an enlisted men's barracks building at the former Fort Benjamin Harrison. Used for military training during both world wars, soldiers used to shoot target practice in the attic. Occasionally shell casings still fall from the rafters.

Project manager

Michael Long

(known as Mike around here) is a licensed pilot.

We are proud sponsors of

Indiana Canine Assistant Network

(ICAN), which provides inmates the opportunity to gain essential life skills through training service dogs. We even have a service doc in training named after us who visits the office periodically.

One of our Graduate Architects,

Loaei Thabet

, is fondly dubbed "The Post-It Master," because he uses color-coded sticky notes for just about everything. His desk ends up being very colorful!

The Curran employees are an adventurous bunch. Whether hiking across Iceland, piloting a plane, riding a motorcycle cross-country, or sailing a yacht across the Atlantic, you can be sure that somewhere, one of us is off pursuing our passions.

"Run Forrest, run!" We've got some avid runners among us. Project Architect

Jeremy Stewart

and I

are gearing up to hit our goal of running marathons in each and every state.

We've got some serious work time under our belts. Our current team of 14 has 70 years of combined experience working for Curran Architecture.

"Eh, what's up, doc?" Four members of our staff had rabbits as pets at one time.

Our Registered Architect,

Melissa Garrison

, doesn't like worms. She has a serious problem with sidewalks after it rains.

Our team has lent time and talents to

Habitat for Humanity of Indiana

for several years. We've loved jumping in to help with everything from siding, windows, and painting to hardware and trim.

Our awesome intern, Simon, previously lived in Germany.

We have four registered architects dreaming up and executing big plans around the office, and we're licensed in 39 states.

Our newest Curran staffer, Robert Lastinger, helps on the hospitality team for Comic-Con events across the country.

Our business phone number once belonged to a jukebox repair company. We used to get frequent messages from jukebox owners needing service.

We know this is all kinds of wrong, but

Jeremy

doesn't like bacon. We were suspicious about this strange distaste but fortunately hired him anyway.

Curran has called five different venues home over the past 16 years. What started as me (Shawn) working out of my house, has taken us to our current space with 3,700 square feet and 14 staff members. What a great journey it has been! Thank you for the part you have played in our growth and success. Here's to many more great years ahead!