The Prairie Waters Event Center celebrates all stages of life: baby showers, birthday parties, corporate retreats, weddings, anniversary celebrations, memorial services. Owned by Flanner Buchanan and located on the edge of a small lake, the versatile venue brings a fresh, contemporary design to Westfield, Indiana.
As a nod to its natural surroundings, the design for Prairie Waters incorporates stone, wood, and glass. Stone columns line the entry, complemented by wood light fixtures. The entry hallway also features a wood ceiling and floor-to-ceiling windows. "By taking the windows down, all the way to the ground, we blurred the line between the inside and the outside," said David Wagner, the project architect for Prairie Waters. David, who is also a partner at Curran, said the site influenced not only the exterior of the event center, but also the interior. Six hundred square feet of glass provide a clear view to the lake and allow natural light to fill the main event room. There are 14-foot ceilings that make the 12,500-square-foot event center feel spacious and airy, and there is a natural stone patio right along the water. It features a railing that minimizes the obstruction between the guests and the water. "We wanted to create a seamless look, like an infinity building," David said. "We wanted people to feel like they were right on the water."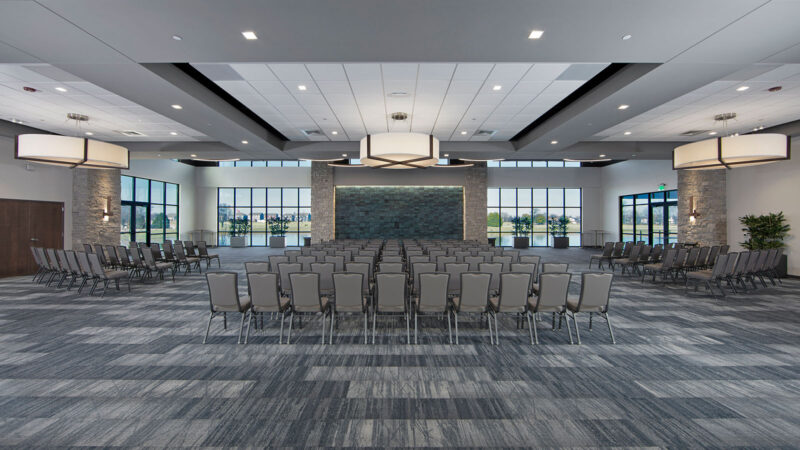 Currently, the patio can host up to 80 people. However, we designed it so that, if Flanner Buchanan decides to expand it in the future, they can. That said, the water did come with its own challenges. Because the building itself is not far from the lake, the team had to construct temporary foundations for a large, elaborate scaffolding system. (Something we might have to do again, if we expand the patio to the west.)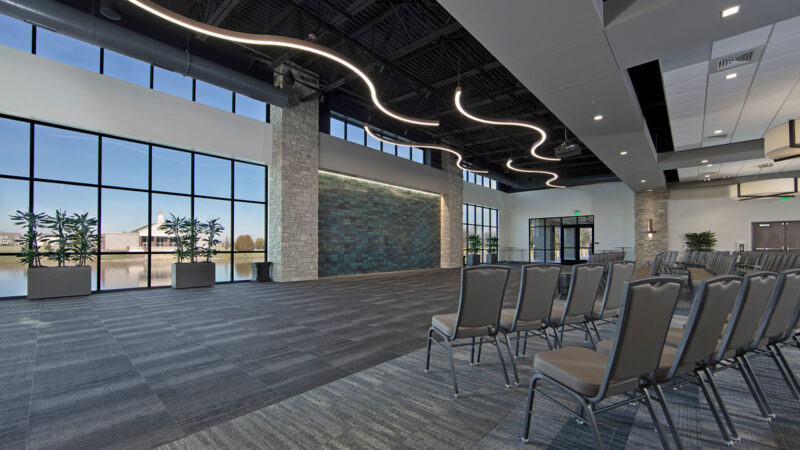 Because Flanner Buchanan wanted a multi-purpose space, the design had to be both flexible and elegant. The main event room has space for 240 people and can be set up for any type of gathering: weddings, birthday parties, memorial services. The Prairie Waters website describes it as "an ideal setting for creating a truly unforgettable tribute that pays homage to life's precious moments.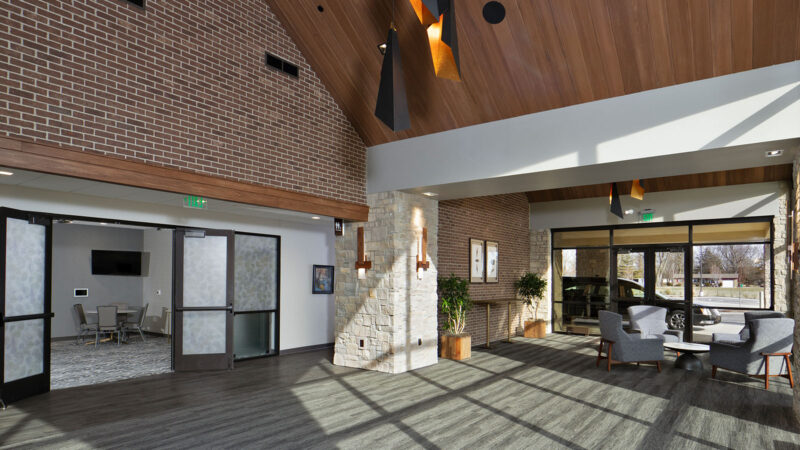 The main event room isn't the only multi-purpose space, however. There's also a bridal suite that can double as a small chapel. During weddings, the space provides privacy for the bridal party, who can get ready in a mirrored side room next to the women's restroom. For more solemn events, the space can be transformed into a small chapel. With its soft lighting, delicately patterned wallpaper, and reed- and grass-infused privacy panels, the room feels warm and comfortable. That inviting, elegant feel resonates throughout Prairie Waters, which celebrates natural materials, natural light, and all of life's special moments.