When IT firm Moser Consulting outgrew its office, its founder Ty Moser wanted more than a bigger building. He wanted a space that would encourage collaboration and get employees excited about coming to work.
Under Ty's leadership, Moser has grown from 30 to 183 employees in the past 15 years. As No. 13 on the "Best Places to Work in Indiana" list, they pride themselves on a great corporate culture and employee perks. But their previous office wasn't cutting it
"We actually expanded three times in the building we were in—on different floors," Ty says. "We were really segmented. Our team wasn't together."
So Ty asked Curran Architecture to design an open, flexible, and tech-friendly office. Together, we planned around employees' needs and created the perfect space for their workflow. Now Moser's new office actually makes employees want to come to work.
Ever since the move, Ty says employees are choosing to come into the office even when they could work remotely. He marvels, "Instead of going home, now they come here. It's a place where they can collaborate."
Here's how we partnered with Moser to design an office their employees love:
1. Think Location, Location, Location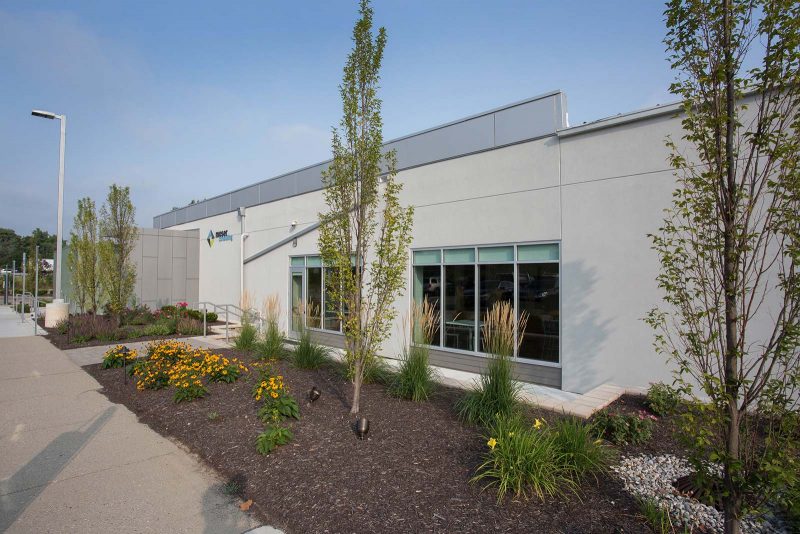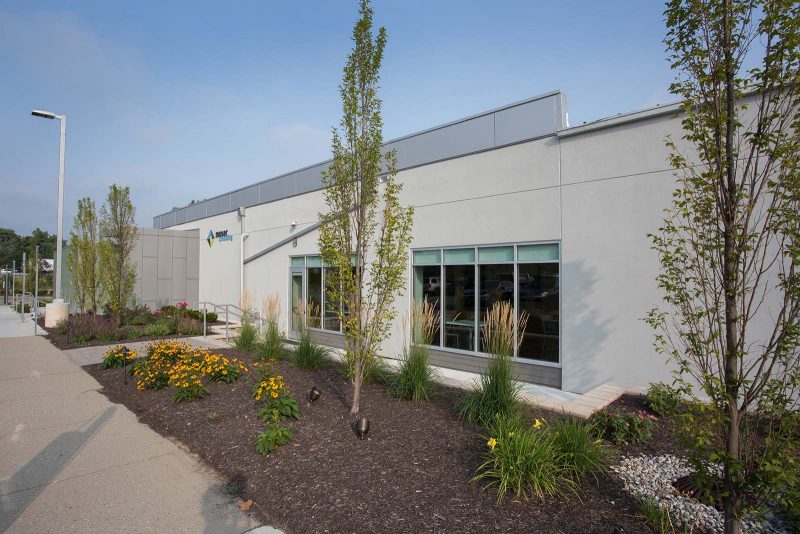 Ty started by finding the perfect building, a spot just off the interstate in northeast Indianapolis. Being near I-465 makes commuting easy for employees. And since the office is visible from the highway, it helps Moser with name recognition and recruiting.
"Moser focuses on employee attraction, both recruiting and retaining them," explains president Shawn Curran. "The location makes a lot of sense from a marketing and recruiting standpoint.
2. Capitalize on Natural Beauty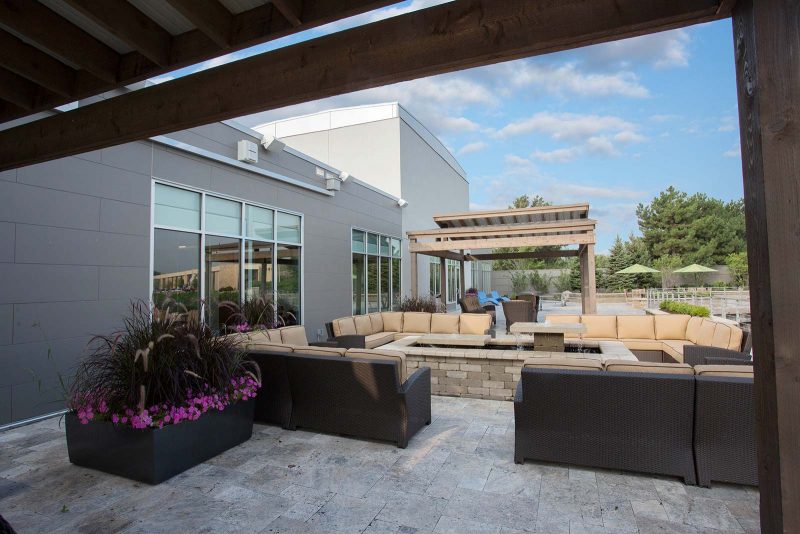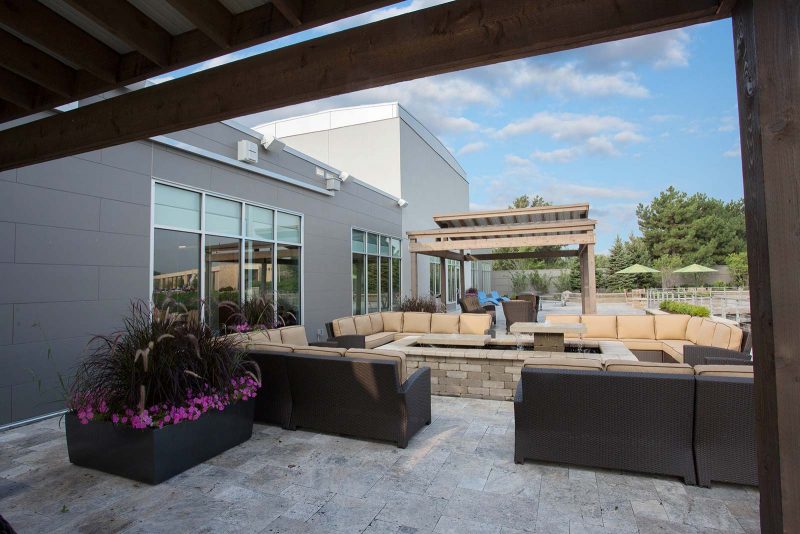 Moser didn't sacrifice beauty for a convenient location. The office also sits alongside a picturesque lake, and we designed its layout so employees could enjoy the view and benefit from natural light. We added windows along the sides and front and reworked the existing windows along the lake side of the building.
Before Moser bought it, the building was a restaurant with a large outdoor dining area beside the lake. We expanded the patio, redesigned the landscaping and railing system, and incorporated pergolas and an outdoor kitchen. The area has tables and chairs, as well as couches surrounding a man-made waterfall. In warm weather, it's not uncommon for Moser employees to head outside for meetings.
"Every client has a different idea of what makes an area inviting," Shawn explains. "There's no hard and fast rule. But for Moser, it was about making spaces with lots of natural light. Whether you're indoors or outside, you can still enjoy some vitamin D."
3. Build in Employee Perks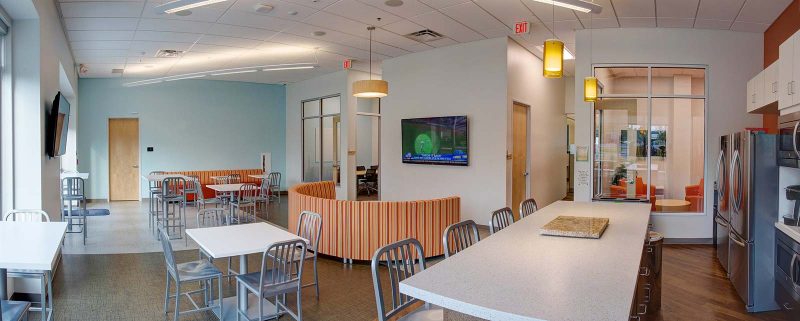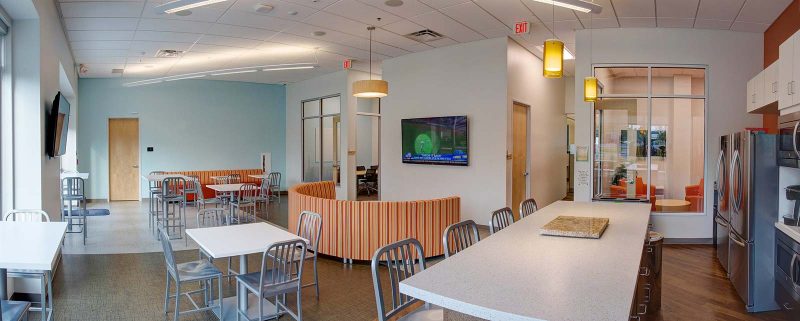 Part of being one of Indiana's best places to work is providing out-of-the-box benefits to employees. Moser included a new fitness center so employees can work out before, during, or after the work day. And thanks to treadmill desk stations, they can get fit while staying productive.
Moser also caters in lunch for its employees, so they asked for a large cafe where employees could enjoy their meal together. "We get a lot of activity around the lunch hour," Ty says. "Even the folks who have to work offsite will stop in for lunch."
4. Bring People Together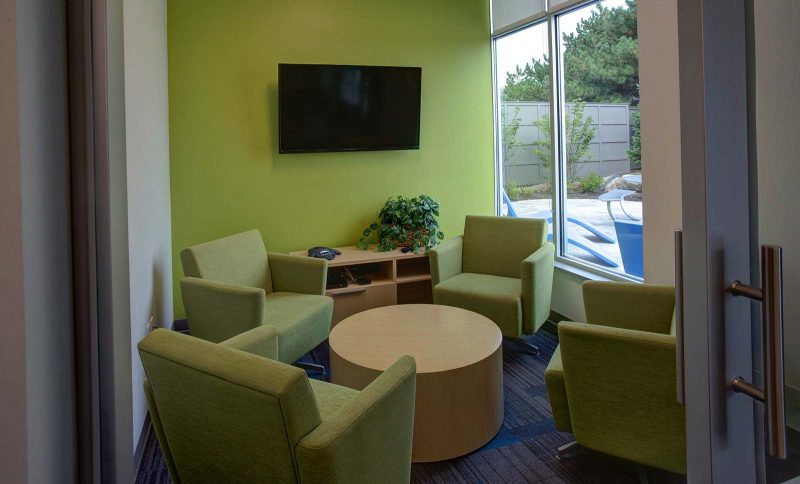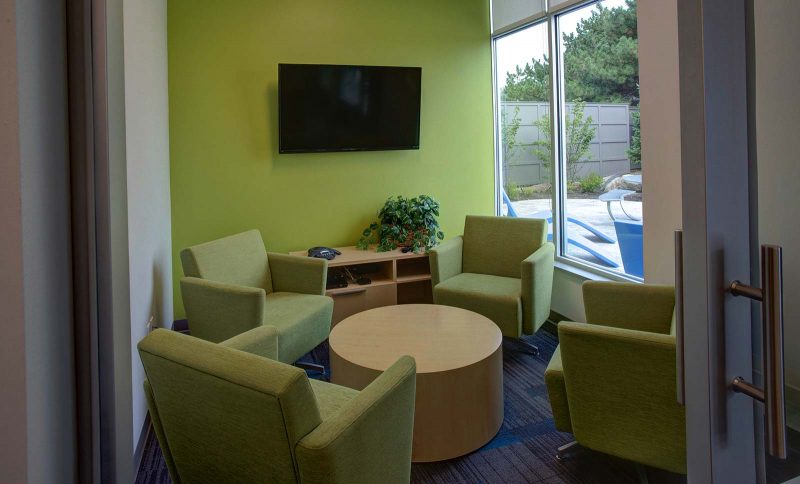 Moser's office doesn't just bring people together for lunch. The whole space is designed around making it easy for employees to work with each other. Their desks sit together in an open concept area, and there's space for remote employees who visit occasionally. Ty raves, "People love these collaborative areas."
The office also has plenty of "breakout rooms," where employees can talk about projects or take phone calls without disturbing others. "We wanted the breakout rooms to accommodate the feel of the open spaces," Ty explains. So Curran's team designed them with wide windows to show off the view and maximize natural light even in enclosed spaces.
5. Stay Flexible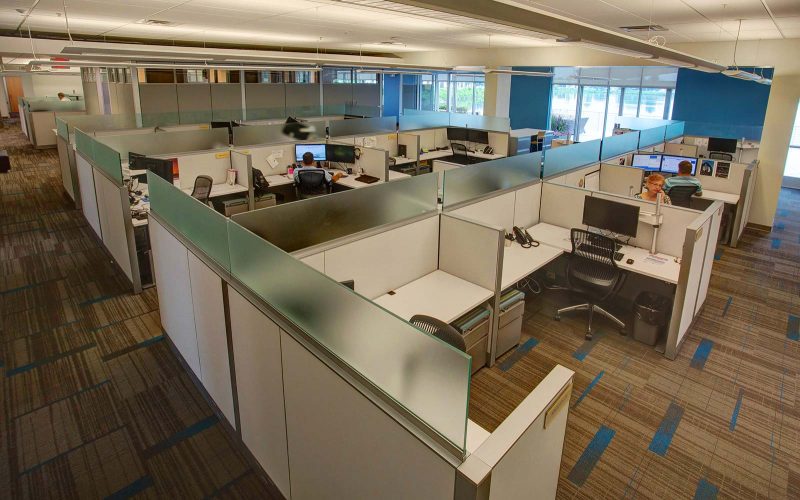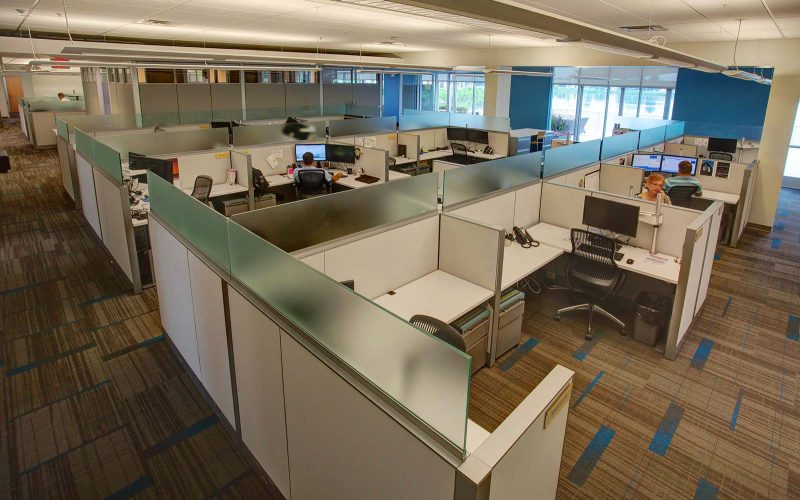 The IT field is constantly changing, and Moser is constantly growing. They needed to be able to change with the times and their own growth. They also wanted a tech-focused modern design. Ty explains, "Our folks like innovative, new age designs, and obviously they're very focused on technology."
Working with Moser, Curran designed the workplace to accommodate modern furniture that easily switches for new layouts. We also included a low profile raised floor to hide a "plug and play" network of power and technology wiring. "Now, we can reconfigure things as we need to," Ty says.
We loved working with Moser on this project. Their passion for improving the employee experience through architecture gave us a creative challenge, and now we're proud to say they have an office fitting for one of Indiana's best places to work.
Looking to renovate your own space or build a new one? Check out our past work, then contact us to talk about your project.