The old Humane Society of Hamilton County (HSHC) building was more than 30 years old and too small to provide animals with a decent quality of life. Inside, the sound of barking dogs would echo, amplify, and reverberate within the space. Cats were confined to two-by-two-foot cages where they would nap beside (or sometimes in) their litter boxes. There wasn't a dog run or an intake area for cats. The building also lacked a quarantine space for contagious animals and a rehabilitation area for animals that were sick or injured.
In short, it was difficult for animals to thrive in an outdated, crowded space.
That changed in April 2021, when the HSHC found a forever home in Fishers, Ind. At about 41,000 square feet, the new facility is five times larger than the previous one. It includes a spacious welcome area, a kitchen (no more washing food bowls by hand!), and a high-end ventilation system that keeps the air circulating, and consequently, reduces the risk of spreading illnesses. Also new—classroom space, a canine "romping room," sunlight-filled "catios," and a wellness center.
Gone are the steel cages, which were visual—and psychological—barriers between animals and their potential owners. Now, every cage has a glass front. It's a feature HSHC senior communications manager Megan Davis called out in an interview with FOX59. "[Animals] are really getting to interact with people, which is a huge difference," she said. "Adopting is so important to these animals. It means a second chance to live, love, and be loved, which is what we're all about here."
When HSHC started planning the new facility in 2016, Curran had already worked on several veterinary clinics and animal shelters. We understood the importance of animal wellness and the need for a state-of-the-art facility. In addition to HSHC, we worked with Meyer Najem Construction and animal design experts to create a building that improved the lives of animals and increased adoptions.
To fund the $11.4 million project, HSHC launched a capital campaign in 2019. Including a $4 million boost from local entrepreneur Steven Cage, all the money for the new facility was raised via private donations. To honor Cage's generosity, the animal wellness center was named after his foundation. We also included a large mural of Cage's black cat, Stanley, on the exterior. (We think it's the cat's pajamas.)
Speaking of the exterior, we used natural cut limestone, to complement the facility's surroundings. Different wood tones blend in, too, and provide a sense of warmth, design-wise. (Literally, the wooden brise soleil reduces heat gain from the west.) There's also a residential area nearby, so we didn't want the facility to be overwhelming. Instead, the low-slung building welcomes all—both people and animals—with a brick memorial plaza. (Purchase a brick here!)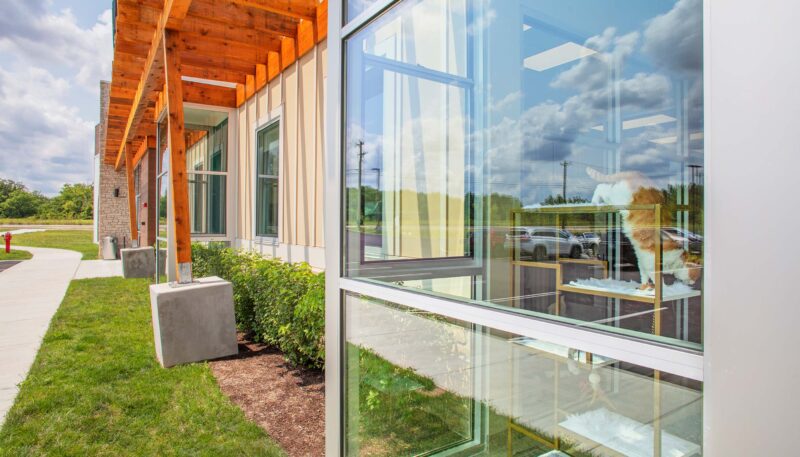 Inside, the no-kill shelter has room for 350 animals–more than double their old capacity. The new layout and expanded kennel space give employees the opportunity to provide more individualized care to the animals. And really, that was the mission from the very beginning—design a facility that reduces the stress on animals so they can be themselves and, in turn, be adopted more quickly. After all, it's for them, not us.