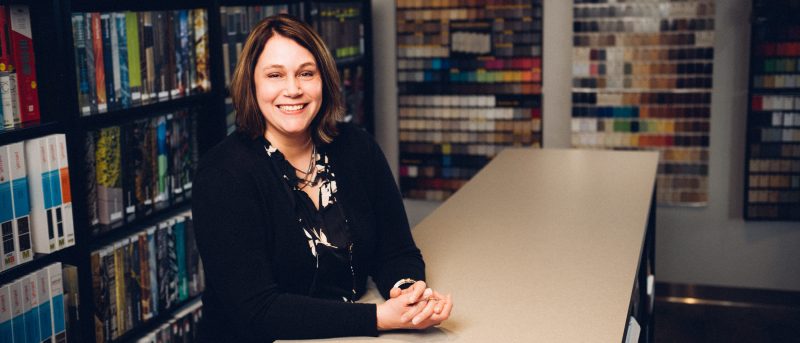 We know a driven self-starter when we see one, and Angie Nagy's no exception.
Her passion to keep learning and growing led her to teach herself AutoCAD over a decade ago. "I was working at a realty company, and they needed someone to plot large format drawings," she says. "I loved the ability to draw simple lines and turn them into anything from a building to a parking lot." From there, Angie went on to work on site planning and conceptual layouts for industrial and office spaces, as well as interior space layout for retail and office clients.
In her role as Architectural Technologist at Curran, Angie works with project managers and creates the technical drawings for projects. "I take the architects' renderings or information and bring it to life in a format that can be submitted to jurisdictions and used for construction," she says.
She loves seeing a different side of the construction process, too. "Having worked for construction companies and owners, I was always on the interpreting side of architectural drawings, but in my new role, I get to create those drawings that my former employers used to build from," she says. She has as astute appreciation for the attention to detail in architectural drawings, knowing full well the impact that even a slight mistake can have.
She thrives in a team environment and likes working toward a common goal. Angie's also passionate about creating sustainable buildings and breathing new life into existing structures through remodeling. She loves to ask, "How can we take what's already here and use it better instead of building brand new?"
When she's not in front of a computer screen, Angie enjoys spending time with her husband and children. She also loves the great outdoors, playing softball, walking, or hiking the state park trails just for fun.