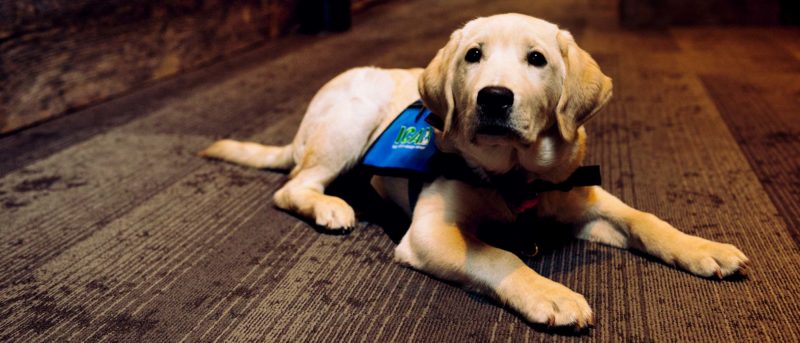 Say hello to Curran, a little puppy with a big purpose. Curran's a Golden Retriever + Labrador mix who loves playing fetch, eating, and learning new skills. He's currently being trained through ICAN, the Indiana Canine Assistant Network—a big-hearted non-profit empowering incarcerated men and women in Indiana prisons to train service dogs.
While he's only a puppy, Curran is a quick learner and after two years of working with Indiana inmate handlers, he'll become a certified service dog, ready to be matched with a physically- or emotionally-challenged individual to provide support and companionship.
I first found ICAN years ago when I sent my wife a gift through the organization's Puppy Love program (Because, who wouldn't love a special gift personally delivered by a puppy?) Soon, our firm started supporting ICAN and even sent client Thank You gifts via The Puppy Love program. Of course, gift delivering isn't the primary intention of ICAN's training. At it's heart, ICAN serves two amazing purposes: Hoosier inmates gain healing and hope caring for and working with dogs, and someone in need receives a life-changing service animal. For the prisoners, the dogs are a reason to get up in the morning, someone to care for that loves them back unconditionally. Also, the inmates learn skills that can help them get a job once they're released.
The recipient of the dog receives a loyal companion equipped to aid them in their specific struggles. For example, some ICAN dogs are trained to smell blood sugar swings in diabetics, and can alert their owner of dangerously high or low levels. Other dogs are placed with individuals suffering from autism or traumatic brain injuries who benefit from both the emotional and physical support of the canine.
After years of supporting ICAN, we've stepped up our game and have committed to a two-year sponsorship of our new friend, Curran. He's being trained in the Indiana federal prison system, first by a male inmate at Pendleton to learn basic skills. Later he will go to the Indiana Women's Prison to be taught more advanced skills such as opening doors, operating lights, retrieving dropped items, and providing balance for someone. While he lives mainly in the prison now, Curran does rotate out into the community regularly to be socialized with new people, places, and smells. He'll be matched with a person or family requiring his special skills and personality traits. After his training is complete, Curran will graduate from ICAN in a special ceremony celebrating both the handlers and his achievements.
We are excited not only to see how Curran grows and learns, but to join forces with ICAN for this two-year partnership. ICAN fills such a tremendous need for those with physical and emotional needs, and also gives hope to the marginalized in Indiana's prisons. It's truly a heartfelt win-win; as ICAN says "Changing lives on both ends of the leash." If you've never checked out this amazing organization, I encourage you to visit ICAN's website to learn more.