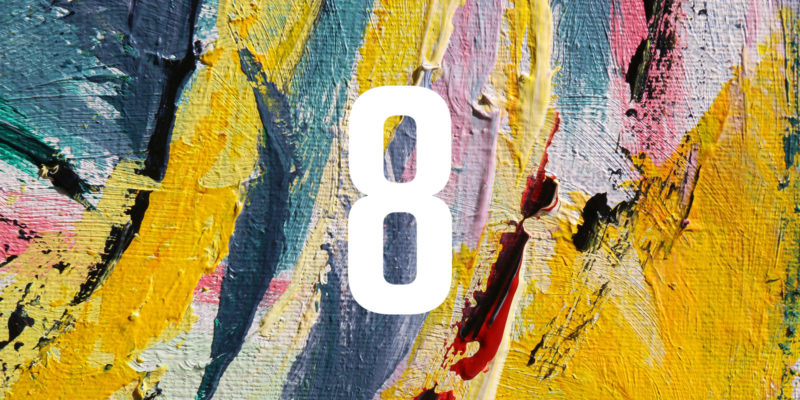 Look around. How much thought was given to what's hanging on your office walls? Often wall decor in corporate spaces feels like an afterthought. Maybe some mass-produced prints are hung willy-nilly, or perhaps the walls are still pretty bare. Does it matter that much after all?
We'd argue yes—and there's plenty of research to back it up, too. The benefits of thoughtful office art go beyond just purely aesthetics. Curating art with intention throughout your office can boost your bottom line and give you a competitive edge. Here are eight specific reasons why art deserves some time and attention in every workplace.
Spur productivity. 

Beyond just our spirits, art can be a true productivity booster, too. Many

studies have shown

that workers are more efficient and productive when surrounded by artistic beauty. Properly designing your workspace, including art, can mean higher profits at the end of the day.

Open dialogue. There's no arguing that art can be a great conversation starter. Give your employees something fun to talk about by displaying unique fine art around the office. Discussing artwork can be fun, but it also allows employees to learn things about each other and deepen relationships.
Increase creativity. As technology continues to revolutionize the way work gets done, creativity becomes all the more critical for a business to be flexible and thrive. Office spaces, in particular, aren't always terribly creative spaces, so having high-quality art around can make a big difference. Creativity grows naturally when you're surrounded by compelling fine art birthed from an artist's raw energy and hard work.
Invest in your employees. Just like making a home feel like a haven, when someone puts love and care into the surroundings, its inhabitants feel cared for. Spending time and energy creating a space that's meaningful for your employees can foster goodwill and gratitude.
Reduce stress. 

Stressed out workers aren't the most productive or fun to be around. We don't need a study to show us that—we've all experienced this firsthand. Luckily, certain styles of artwork really can be calming and well-received emotionally. Creating artistic, peaceful spaces at work can help de-stress your employees, customers, or anyone who visits your company.

Inspire curiosity. 

Engaging with art that's hand-created by an artist sparks curiosity. It's hard not to wonder as you look at it, imagining what the artist was thinking and trying to get across. This kind of curious thinking is precisely what employers need from employees in today's workplace. Being a curious thinker means being open to new ideas and spending time in deep, innovative thought.

Reinforce your brand. 

We're all out to leave a strong, positive impression. And this is harder than ever in today's crowded culture. Curating your office art to reinforce your brand will strengthen the image you're putting out there, making it visually appealing and memorable. 

Support your community. 

At Curran Architecture, we're all about showing love to this fantastic community whenever we can, and Indianapolis has a thriving art community just waiting to be tapped into. Purchasing local artwork for your office space shows your employees, clients, and community that you genuinely care.
The ripple effects of creating an artistic work environment are many, and the process doesn't have to be burdensome or extraordinarily expensive. We love working with clients to curate the perfect collection of artwork. The process involves both strategy and collaboration—together we choose pieces that fit your budget, brand, and goals. We bring lots of options to the table, allowing you to select art that creates a more inspired and productive environment for everyone who walks through your doors. Ready to start a conversation about art in your space? Reach out to me directly at kdespain@curran-architecture.com.