Nestled in Northwest Indiana, the town of Whiting is the proud home of Calumet College of St. Joseph. While the school may be on the smaller side, it fits perfectly with the city's overall size, which has a population of just under 5,000. Not only are residents fans of the academics and athletics taking place on campus, but they also benefit significantly from the attending students by way of a boosted economy and increased foot traffic in their newly renovated downtown spaces.
However, much like other small college towns, Whiting experienced a slight shortage of housing spaces explicitly built for college students. Enter The Illiana. The mixed-use apartment complex, which just finished construction earlier this fall, was designed with both students and the city in mind. We wanted to create a living space that appealed to students, both in price and location. Luckily, it's located a short distance from both the college and the downtown area so that students can access the whole community from their homes.
The Illiana borrows its name from a previous apartment building located in the same space and the town's proximity to the Chicago metropolitan area. Though it tips its cap to Whiting's past, the complex features a mixed-use space on the first floor where restaurants, stores, and other retailers can set up shop. This was our client's first foray into mixed-use, and they immediately saw the value of having retail spaces on the first floor and apartments directly above it. It provides value to the students needing to shop. It also means better visibility for local business owners and a reduced carbon footprint by decreasing the need for students to drive to and from campus and nearby stores.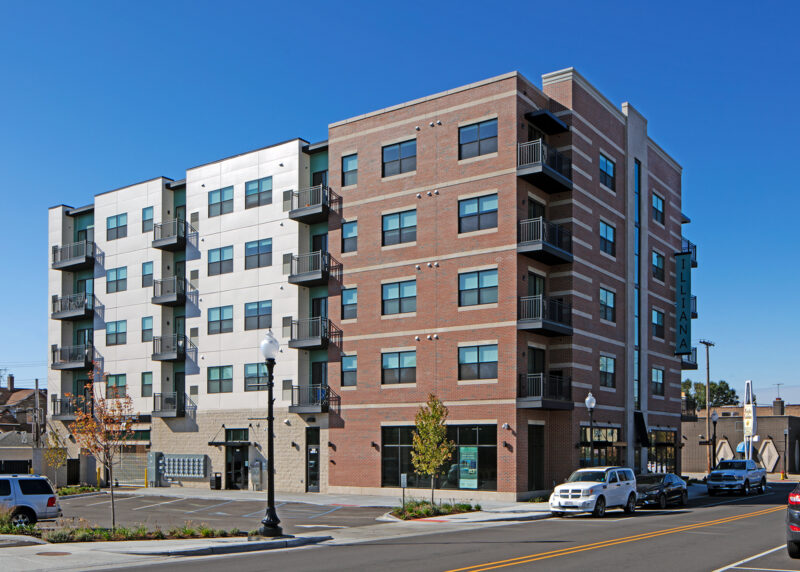 Boasting an open concept design, every apartment features an eat-in kitchen with granite countertops, a full-size washer/dryer combo, 9-foot ceilings, and other conveniences such as indoor garage parking, exterior balconies, and elevator access to all floors. Several of the upper floor units even have views of the Chicago skyline.
"Renters want the convenience of maintenance-free living with the feel of an open concept home," said Jackie Green, Partner and Senior Vice President of Property Management at Holladay Properties. "All of their needs were taken into consideration, maximizing the use of all square footage in each apartment."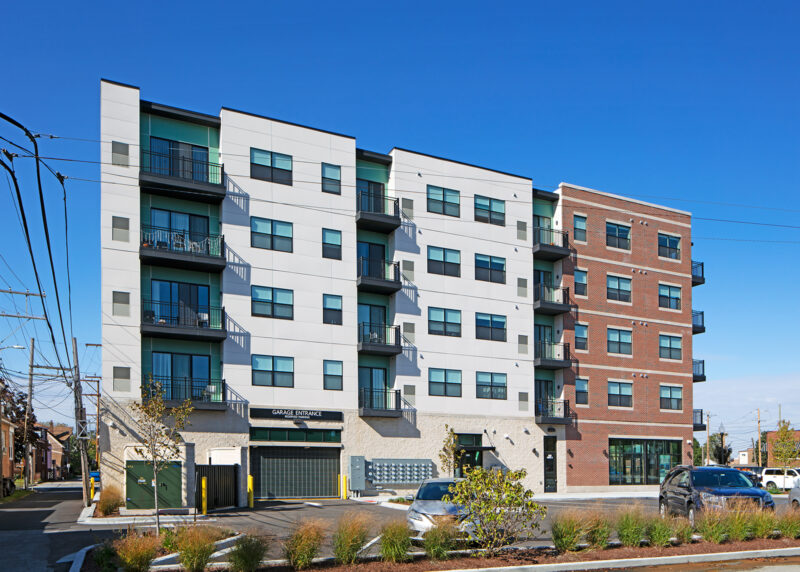 Upon the project's completion, Holladay Properties saw an immediate return. At this time, all but five of the apartments had been rented, already exceeding expectations. We feel like our partnership with them has helped make this town and community even better.